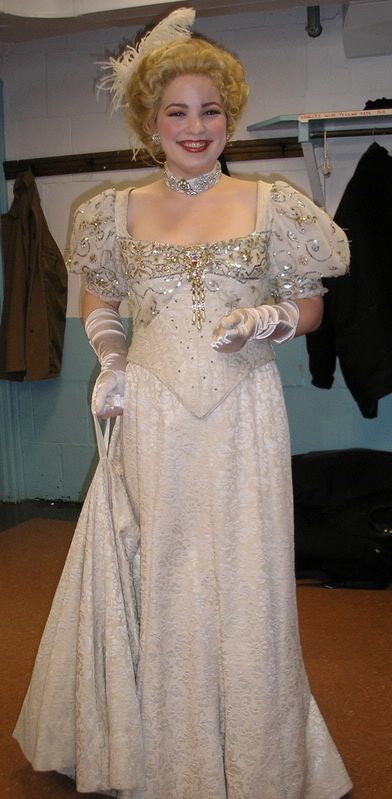 Well. It's been two and a half months since my last post here. I think I got tired of coming up with gimmicks to relate to singing, even though you gotta get a gimmick, as they say. So instead, with this post, I'm going to sum up this year, which has been one of the most eventful singing years I've ever had.
1. I learned, rehearsed and performed my first operatic role--Valencienne in The Merry Widow. Okay, so it's operetta, but it posed numerous challenges to me. I never realized how difficult it would be to get through even a pretty light role with nodes, but it was brutal. The first time we ran through the whole piece with the maestro, I had my period and had had a coaching earlier in the day where I sang through some tough Chaminade songs. By the end of the evening, I had no voice at all--literally, nothing above maybe a G above middle C--and I don't think I ever fully recovered. That said, it was also an enormously positive experience. I sang with some unbelievably talented people, sang a killer high C in public (pure adrenaline!), learned to can-can, waltz, and open a fan properly, spoke onstage in a French accent, did some very high-pitched giggling (harder than it sounds, believe me!), and wore a fantastic blonde wig. Oh, and made a whole cast's worth of wonderful friends.
2. I had surgery on my vocal cords. Actually, last night I dreamed that I was having surgery again--I think because I was having trouble sleeping and when I had my surgery in May, the doctor told me it would be the best sleep I ever had. Looking back, I really can't believe I'm seven months post-surgery. Remembering the pain of the first four silent days, recovering from anesthesia, and then beginning the painstaking process of building my voice from the ground up, it just seems like another world, another planet, some kind of alternate reality. I remember lip trilling up to a high F on my third day of vocalizing, a week after surgery, and thinking it was going to be a whole new world (it turns out that that F was a total fluke, and I haven't hit one since). It's been really exciting, from the endless minutes in the practice room working patiently through "Abendempfindung" and "Lydia," doing vocal fries and kazoo voice, all the way through starting to work on "Ach, ich fuhl's" this month, which would never have been possible pre-surgery. I sort of can't believe that I worked up the courage to go through with it, but I did, it was real, and now I get to write "microlaryngoscopy" on forms at the dentists' office when they ask "Have you ever had a major surgery?" Why, yes. Yes, I have.
3. I prepared and presented my senior recital, finally, November 7th, 2009. I was so sick of that repertoire by the time my recital rolled around. Honestly, the whole forty-five minutes that it lasted I was just aiming to finish it. I wasn't that excited by how it turned out, but my family was delighted, and that was more important. The recording is a testament to the wonders of modern science and laser surgery, and the DVD of the recital tells me that I've at least partially figured out how not to look ridiculous when I sing. So that's a positive thing for sure.
4. I applied to grad school. What a fraught experience--fraughter than I thought, as the song goes. When I started the process, I thought, well, I'll just throw together the applications, they're all online, all the same information over and over again, a couple of personal statements. But over this process I have had numerous crises of confidence, vacillating between desperately wanting to sing for my supper, so to speak, and wanting to chuck the whole thing and do something unrelated to singing. I took lessons with teachers at Mannes and University of Houston, both of whom seemed to indicate that I wasn't ready for grad school, and after a while I doubted it myself. When I wasn't granted an audition at UH, I thoroughly anticipated not getting any auditions. But lo and behold, I'll be auditioning for Mannes, Rice and Maryland in the coming months. I was kind of shocked, actually. I wasn't that pleased with my pre-screening recordings, they didn't really show any versatility, no coloratura, no high notes, and a lot of pitch issues, to my ear. But apparently it all worked out. I'm really looking forward to this.
5. I went to New York and auditioned for my first Young Artist Programs. Well, real ones, anyway--I auditioned for Brevard and the student section of Chautauqua a couple of years ago, to no avail. I have only heard from Green Mountain Opera Festival, who didn't offer me anything, but I have them to thank for resolving my confidence issues. When I sang for them in New York, they commended me on my honesty and my poise; I was told, "You know how you feel right now that you can just be yourself? Don't lose that." It was an important wake-up call for me. I think sometimes we get so wrapped up in the technical aspects of singing, with fixing things and polishing things, that we forget to take stock of the things we already do really well. I received compliments on strengths of mine that have nothing to do with singing, and I couldn't have been more pleased if they had offered me a role in their summer season.
For the moment, I think those are the big things. I've grown and matured a lot this year. I cut my hair from a bob to a pixie cut, then let it grow out a bit because I missed my curls. I read a lot of murder mysteries. I started tucking my jeans into my boots and aiming for sophistication at all times. I worked a day job that I hated, and I discovered that I can talk to anyone eloquently about almost anything. I went on a few dates. And I have really fun plans on New Year's Eve.
It's been a wild ride of a year. I can't wait to start the next one.